August 2021
PCSG Covid-19 Visitors Guidelines
April 2021
Effective immediately, ages 16 and older are eligible for the COVID-19 Vaccine*
(*Pfizer is the only COVID vaccine currently approved for ages 16 and older.  PCSG is currently offering the Maderna COVID-19 vaccine.)

Call PCSG's Vaccine Hotline to set up an appointment!
Blakely: 229-308-1316
Bainbridge: 229-308-2080
Thomasville: 229-221-3986
Quitman: 229-425-3555
Vaccine Hotline Hours
9:00 am – 12:00 pm
1:00 pm – 4:00 pm
COVID-19 Tests Available by Appointment Only
For the safety and wellbeing of our staff, PCSG is updating the procedure for walk-up COVID-19 testing at all sites. Starting Monday, August 17th, all walk-up COVID-19 testing will be from 9:00 am – 10:00 am BY APPOINTMENT ONLY! 
Please visit the "Location" Tab to find a location nearest you to set up an appointment.
Patient Safety
PCSG is taking all of the proper precautions to ensure the safe of our patients and staff members during their appointments.
·         We continue to sanitize and clean exam rooms and patient areas before appointments.
·         Following all CDC guidelines to ensure safety for our patients.
·         All staff members and patients are required to have their temperatures recorded prior to entering the buildings.
·         All staff members and patients are required to wear a face mask or protective covering while in the building.
Patients Must Wear a Mask
To ensure the safety of our staff and our communities, Patients must wear a mask or protective covering before arriving at all PCSG locations! The mask or protective covering should be worn appropriately so that it fully covers your mouth and nose. 
March 31, 2020
PCSG launches TeleHealth Visits or Virtual Visits for Patients
Do you need to see a provider but want to skip a trip to the doctor's office? PCSG is proud to now offer TeleHealth Visits or Virtual Visit with our providers from the comfort of your own home!  New and established patients can schedule a visit with one of our providers and be seen over your smart phone, laptop, tablet or computer.
There are two ways to schedule your TeleHealth Visit :
Call your local PCSG office and ask for a TeleHealth Visit.  You can find a listingof our locations and phone numbers on our website (www.pcswga.org).

Visit the Patient Portal or Healow App that can also be found on our website.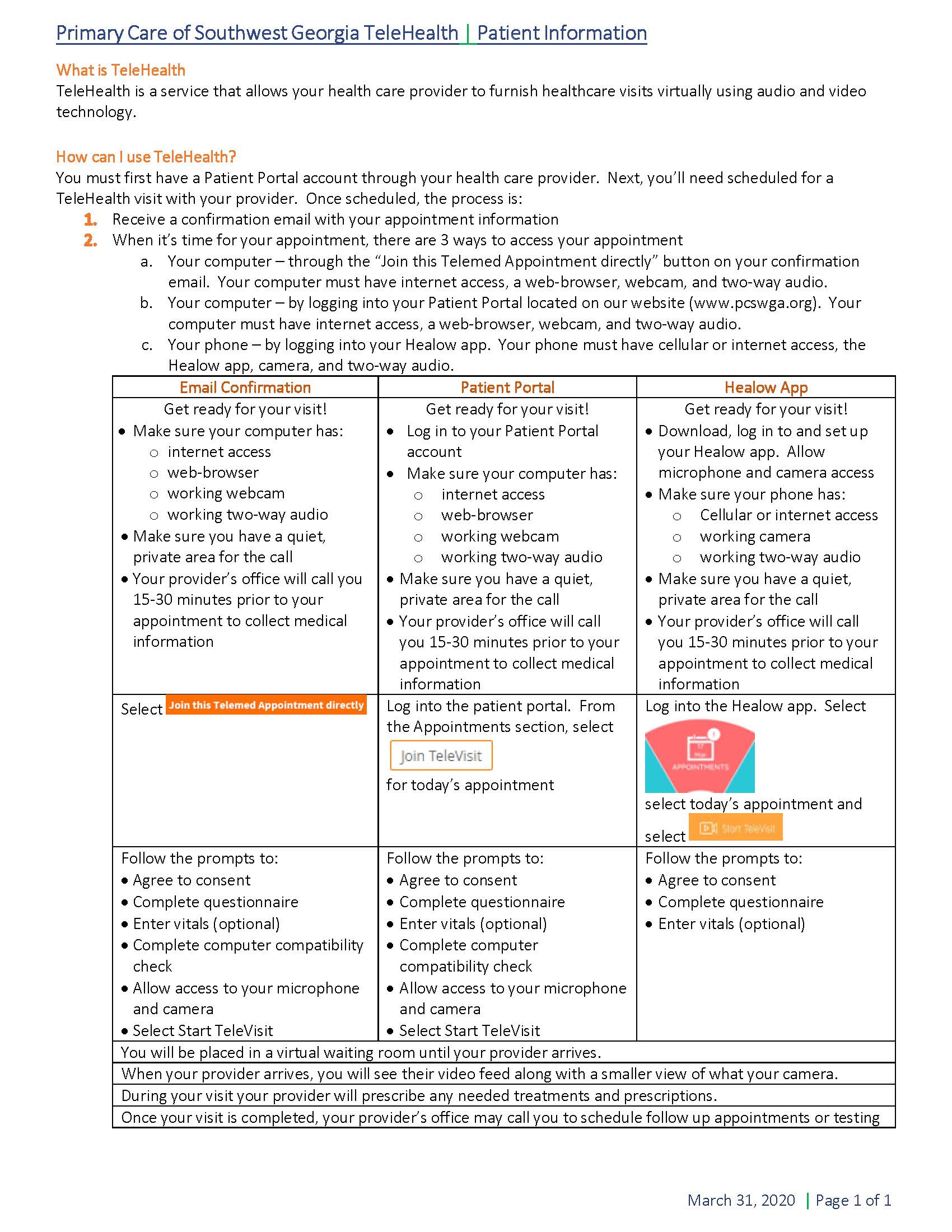 March 30, 2020
TCMS – School Based Health Center in Thomasville
Effective immediately, the TCMS School Based Health Center will be closed until further notice as we utilize our providers at other locations during these unsettled times.  We apologize for any inconvenience this closure may cause during this time.

March 20, 2020 updates for our patients and community members:
PCSG Providers and Leadership Teams are meeting daily as we monitor the Coronavirus situation and adhering to all CDC guidelines as well as working with our local health departments.  Our policies and protocols are changing on a daily basis to better protect our staff, providers and patients.  Some of those changes are;
We began checking all employee temperatures before entering the sites earlier this week.  This is to ensure that we are protecting our staff as well as our patients.

All PCSG sites will remain open during normal business hours to assist our patients during these uncertain times. 

All sites have set up stations to screen each patient before entering the buildings to help reduce the possibility of spreading the Coronavirus any further in our communities.
What you can do to help stop the spread of the Coronavirus!
Make sure to wash your hands often with clean, running water for at least 20 seconds or use alcohol-based hand sanitizer.

Use "social distancing" by remaining at least 6 feet away from others.

Avoid large crowds during this time

Avoid touching your mouth, nose and eyes with unwashed hands.

Cover your mouth with a tissue when you cough or sneeze and then throw the tissue in the trash.

Use disinfectant to clean areas that you tough often.

Stay home if you are not feeling well. If you feel like you need to see a doctor, call ahead and wear a face mask.
If you have the following symptoms, please call before your appointment or inform the staff upon your approval.  If you are over the age of 65, we encourage you to call prior to departing for our offices.  Please make sure to wear a face mask if possible.
Fever higher than 99.6 degrees

Cough

Shortness of Breath
Where can you get the latest information regarding the Coronavirus?
U.S. Center for Disease Control and Prevention (CDC):  www.cdc.gov
World Health Organization (WHO): www.who.int
March 13, 2020 Updates

:
Primary Care of Southwest Georgia (PCSG) continues to monitor the Coronavirus (COVID-19) situation.  Our Management team is working closely with the Department of Public Health and the CDC to ensure that we are doing everything we can for the safety of our communities, patients and staff. 
What to Know Before Your Next Appointment:
For All Upcoming Primary Care, OB/GYN and Behavioral Health Appointments:
If you have the following symptoms:
   – Fever
   – Shortness of Breath
   – Cough
If you have recently:
   – Been exposed to a known Coronavirus patient
   – Traveled recently, including within the United States 
Please do not proceed with your appointment.  
Immediately contact your Provider and notify them of your symptoms.
A list of all PCSG sites are located on the home page or under the locations tab. 
---
Frequently Asked Questions
What are the symptoms?
The main symptoms to look for are cough, fever and shortness of breath.
What if I have a fever and cough, or shortness of breath?
Call your doctor's office and schedule an appointment, but make sure to let them know that you are coming in for a fever and a cough. When you arrive for your appointment, make sure you tell the front desk team that your symptoms include fever and cough. Then, follow the next steps from the office staff and you'll be ready for your appointment with the provider!
Will I have to wear a mask in the office?
We may ask certain patients to wear a mask in the offices.  We ask that all patients follow the instructions from their provider's office at all times.
Where can I find more information about the Coronavirus?
You can find the latest information about Coronavirus on the CDC web site here: https://www.cdc.gov/coronavirus/2019-ncov/index.html.